Mrs. Keeven's class did a service learning project on Evaluate Day. They made dog toys out of old t-shirts. Her class is donating the finished projects to PALS Animal shelter.

World Prematurity Hat Day on Thursday, November 17. Bring $1 and your favorite hat to participate. All money collected will go to a family who has a premature baby in the NICU during the holidays.

Mrs. Kelsi Conner has been teaching first grade at CCE for 13 years. She hopes students remember her goal was not just to teach them reading and math, but to teach them to be good humans.

It's cold outside! Our goal is to get children outside daily as long as the temperature is safe. However, students do need a winter coat. If your family needs assistance with a winter coat please email Ms. Shipley, elementary secretary
kshipley@elsberry.k12.mo.us
or call ext. 215.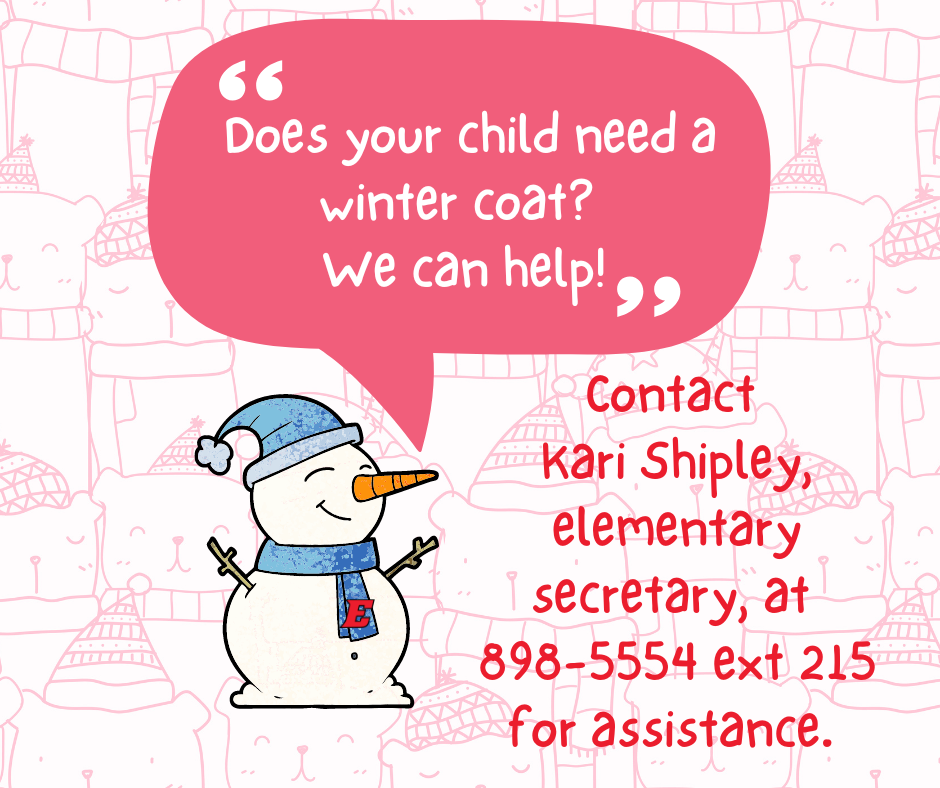 Please help support the CCE 3rd Grade Food Drive. All food collected will be used for Elsberry Buddy Bags. The food drive begins on November 15 and ends on December 16.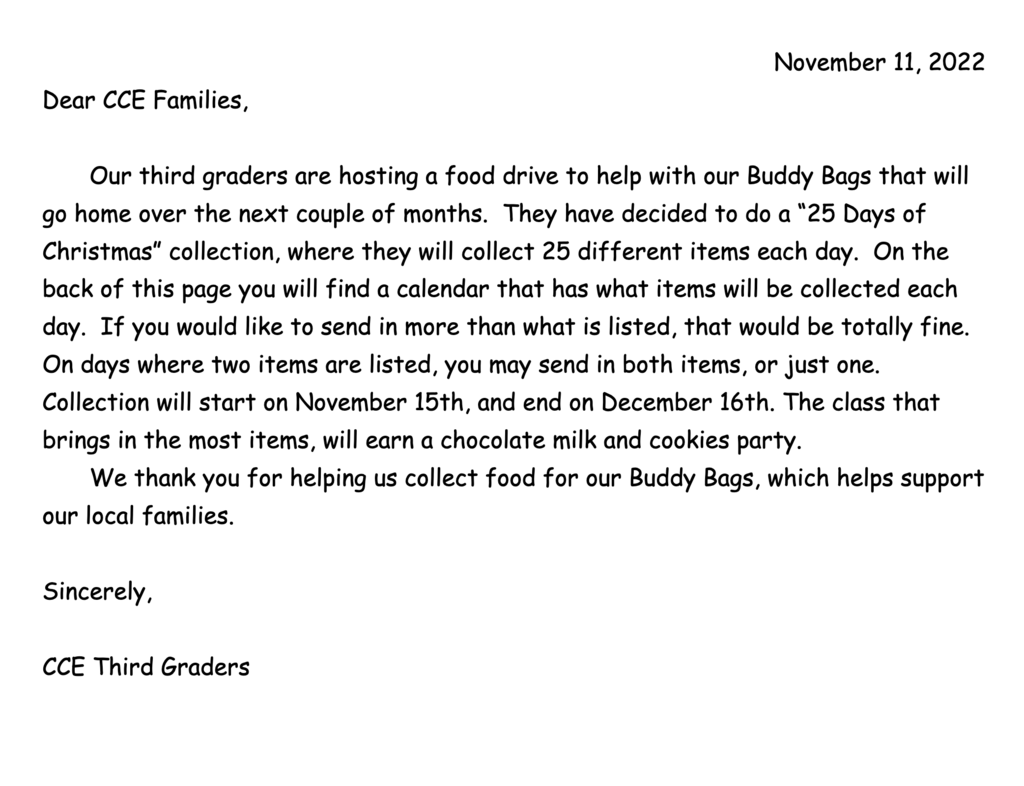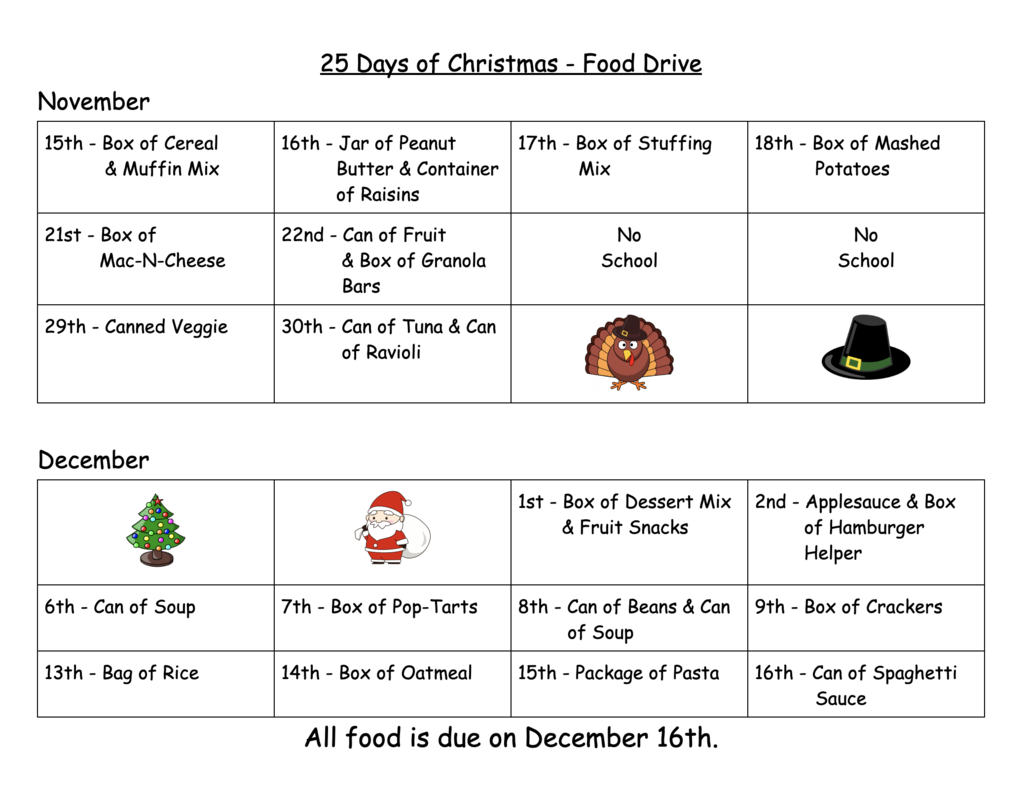 Lunch Menus for November 14-22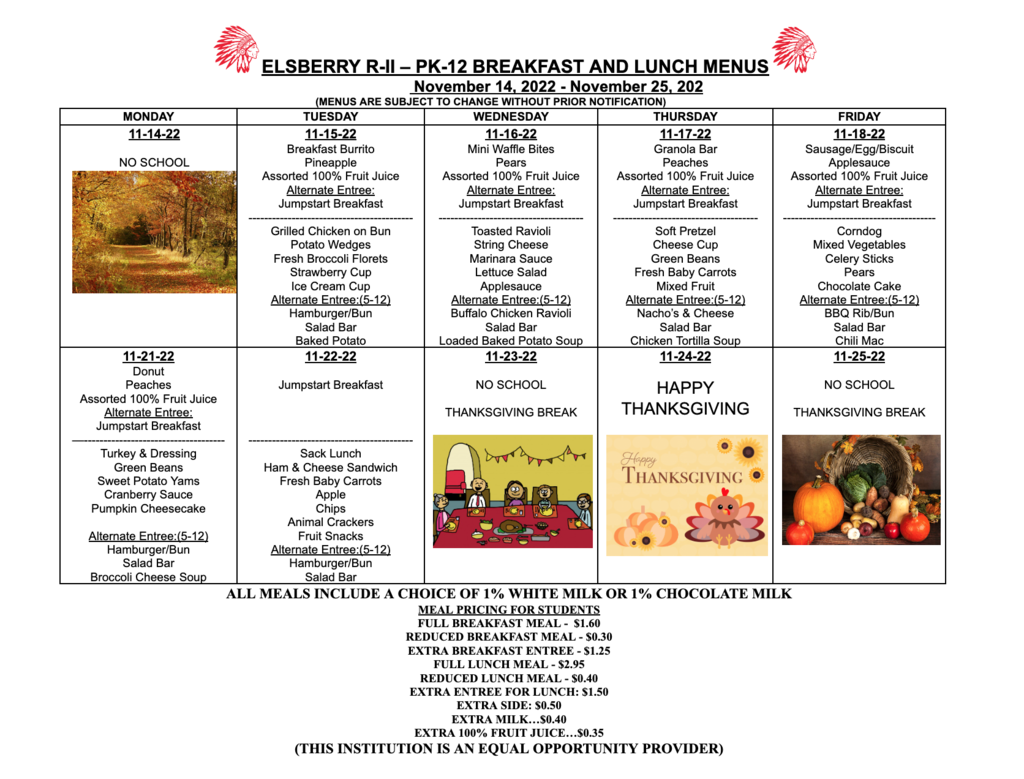 We are looking forward to our Veterans Day Celebration on Friday. Just a reminder, all Veterans should enter at the elementary doors between 8:15 and 8:30 a.m.

November 8 is National PAT Day! Help us celebrate our parent educators, Dawn Stone and Deana Zimmermann. Feel free to drop your favorite Elsberry PAT photos in the comments. The national Parents as Teachers model program builds strong communities, thriving families, and children who are healthy, safe and ready to learn by matching parents and caregivers with trained professionals, known as Parent Educators. Parent Educators make regular personal home visits during a child's earliest years in life, from prenatal through kindergarten. Find more information on our program at our website:
https://sites.google.com/elsberry.k12.mo.us/elsberry-parents-as-teachers/home
or our Facebook Page
https://www.facebook.com/profile.php?id=100063009200099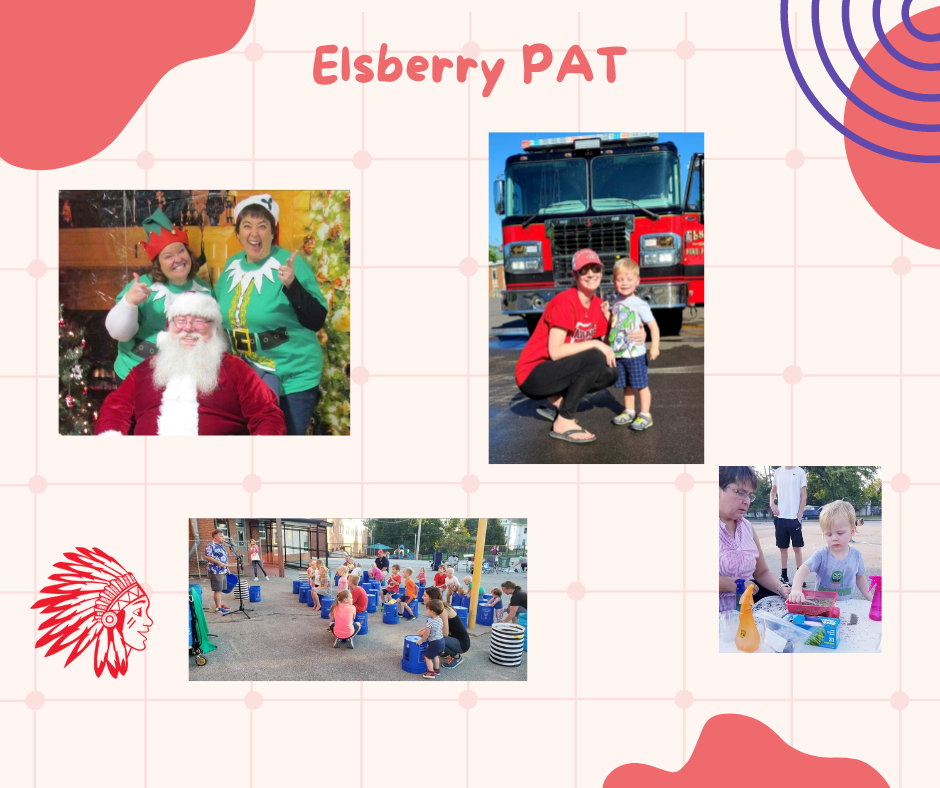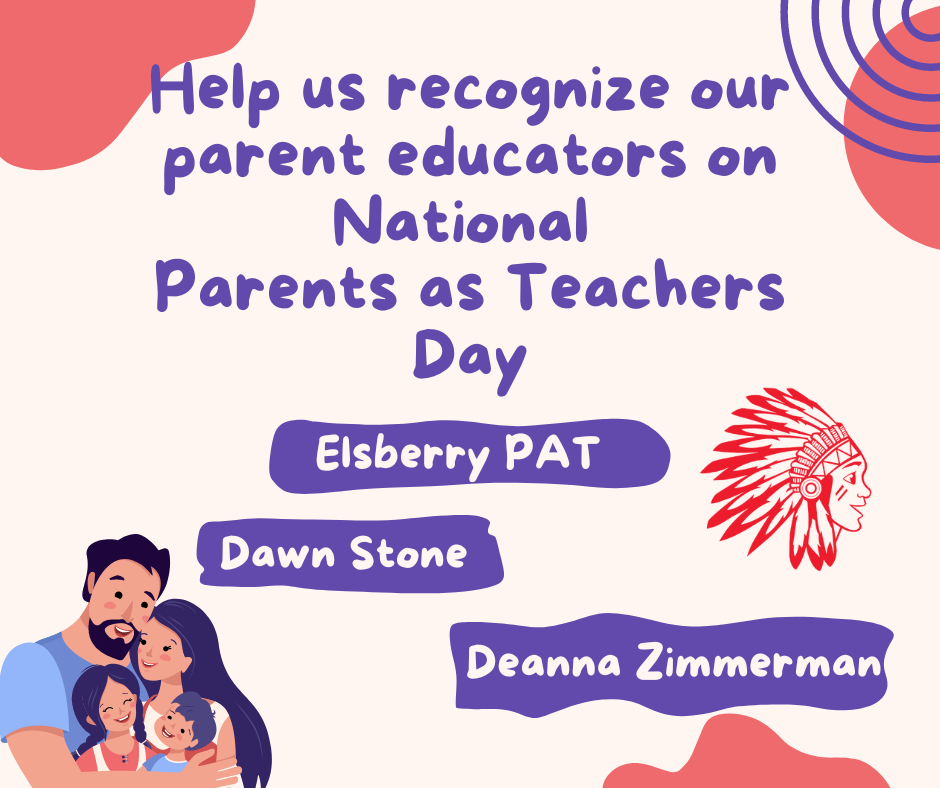 Evaluate Day is Friday, November 11. Our dress up theme is red, white and blue in honor of Veterans Day. Please show your patriotic pride.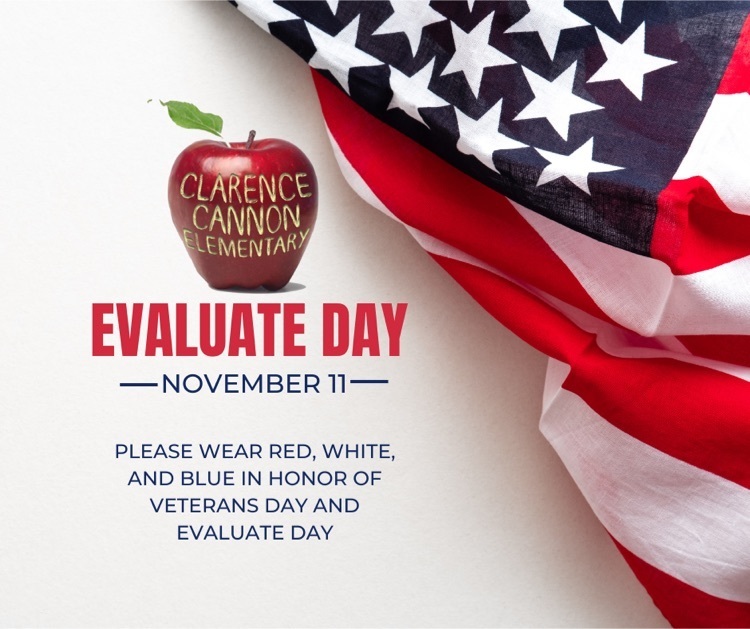 Save the date! The Christmas Program directed by Jenny Lynn Heras will be Thursday, December 1 at 6:30 p.m. All students in grades K-3 are invited to perform as well as the Treble Makers honor choir made up of students in grades 4-6.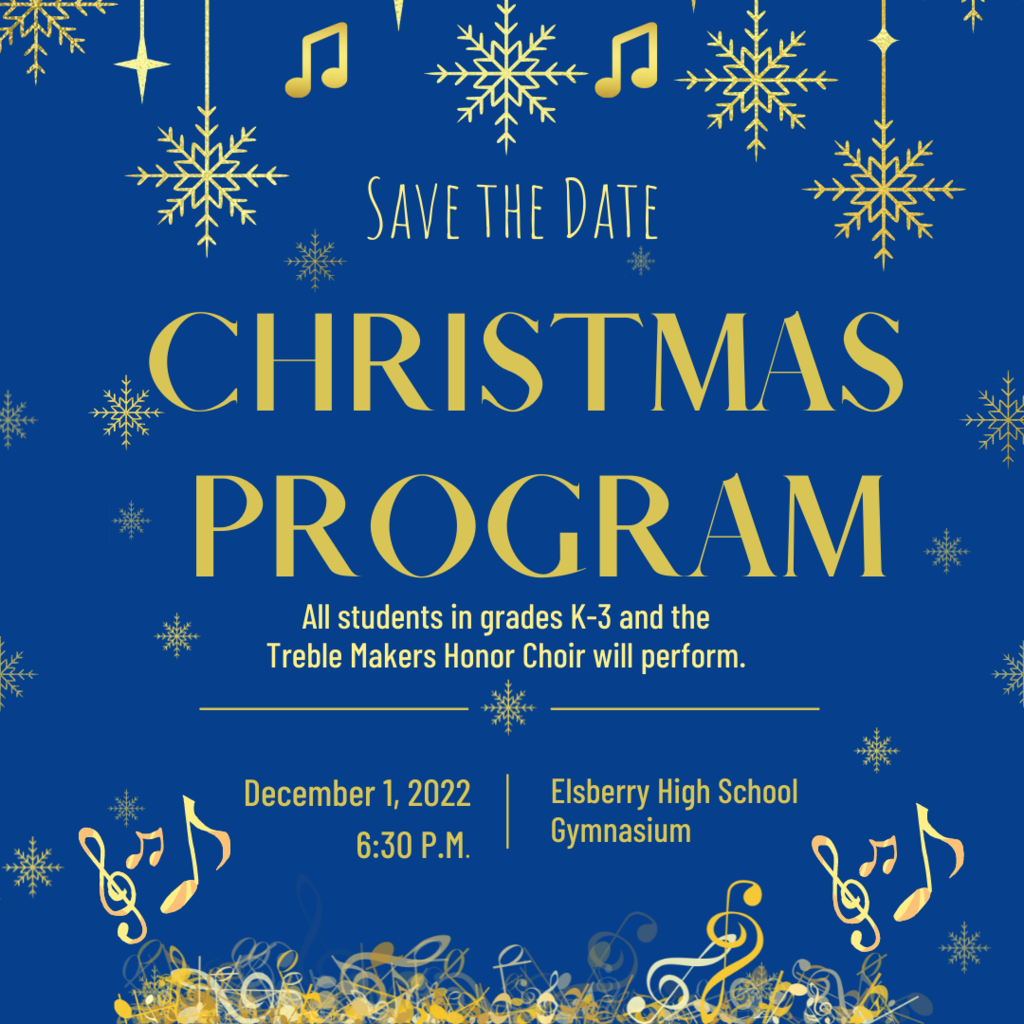 Mrs. Kelly Hudson has been a member of our faculty for the last eight years. She is currently a member of our first grade team. Her very first job was working with 4 and 5 year olds after school. She still works with afterschool students at our Explorer's Club 21st CCLC grant program.

You're invited to join us for a costume parade at CCE! Instead of classroom parties, we are extending our traditional costume parade to our families and the community. After parading through the school, students can't wait to show off their costumes to everyone else! Just find a spot inside the playground fence before the parade begins. In the event of inclement weather, the parade will be moved to the elementary gym. We hope to see you there!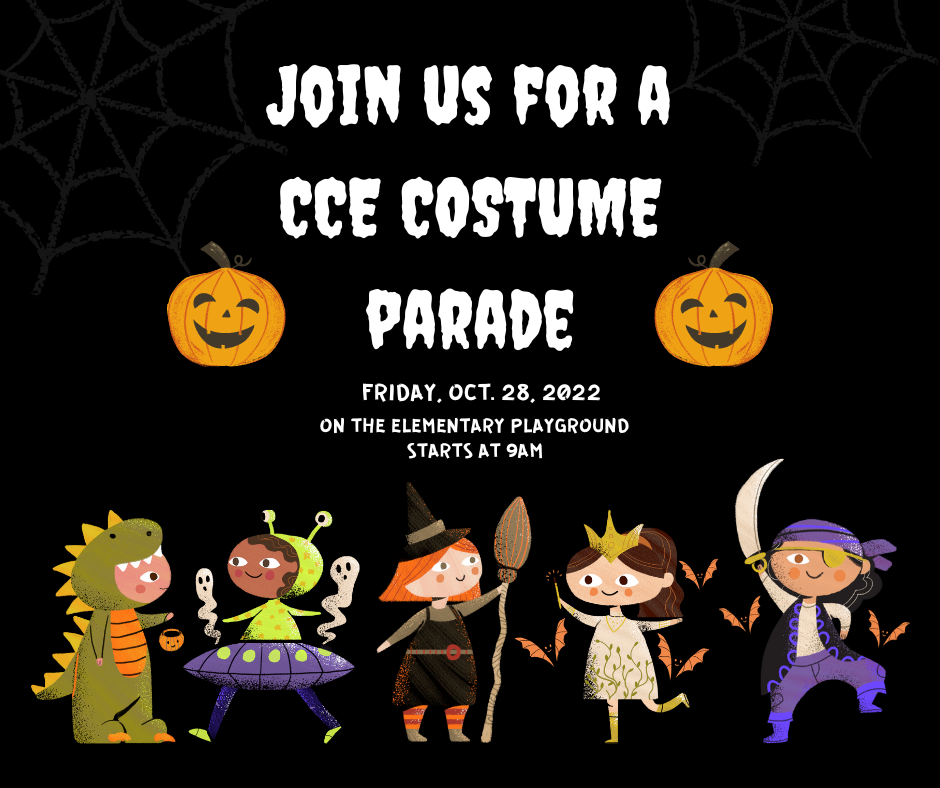 National School Bus Safety Week October 17-21, 2022 While the school bus is the safest way to travel to school, children still need to be careful asthey get on and off the bus. Obstructed views and distracted drivers put kids at risk, which is why it's important that parents teach them about ways to stay safe.

Red Ribbon Week is the largest drug-abuse prevention campaign in the United States. The national theme is Celebrate Life. Live Drug Free. We are having daily themes the week of October 25 to remind us that drugs do not help us be our best selves.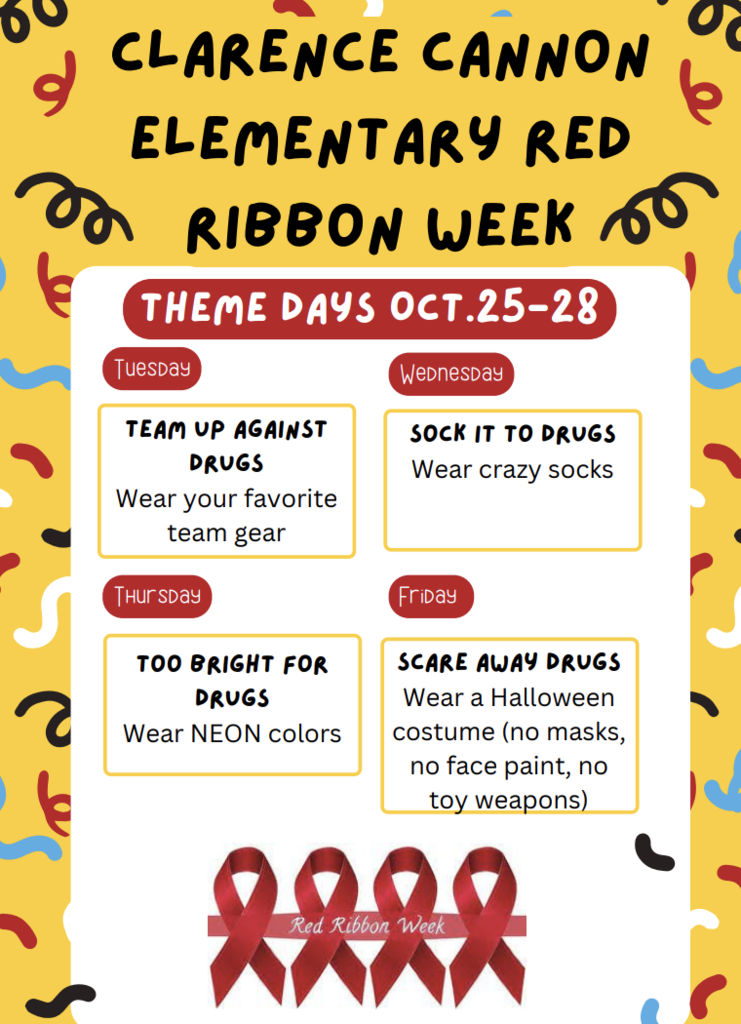 Mrs. Kaimann's Kindergarten class read Spookley the Square Pumpkin last week. They used the story to talk about being a good friend. They also learned you can do anything you put your mind to. Other activities included introducing adjectives, making a spookley snack and getting to watch the movie at the end of the week.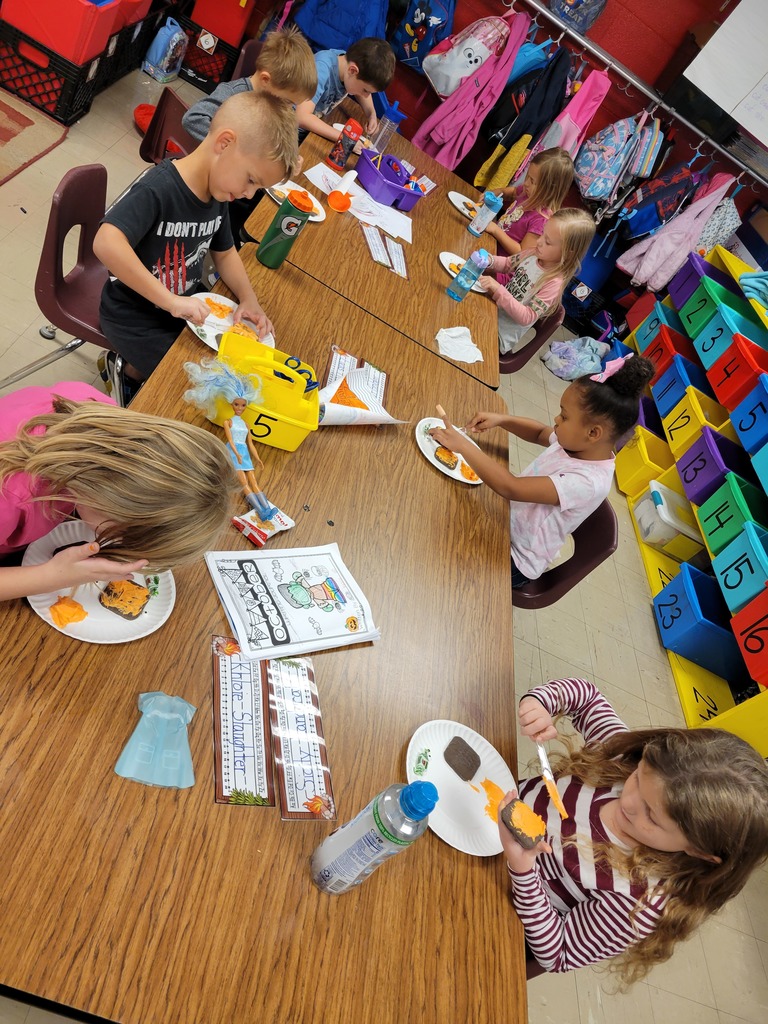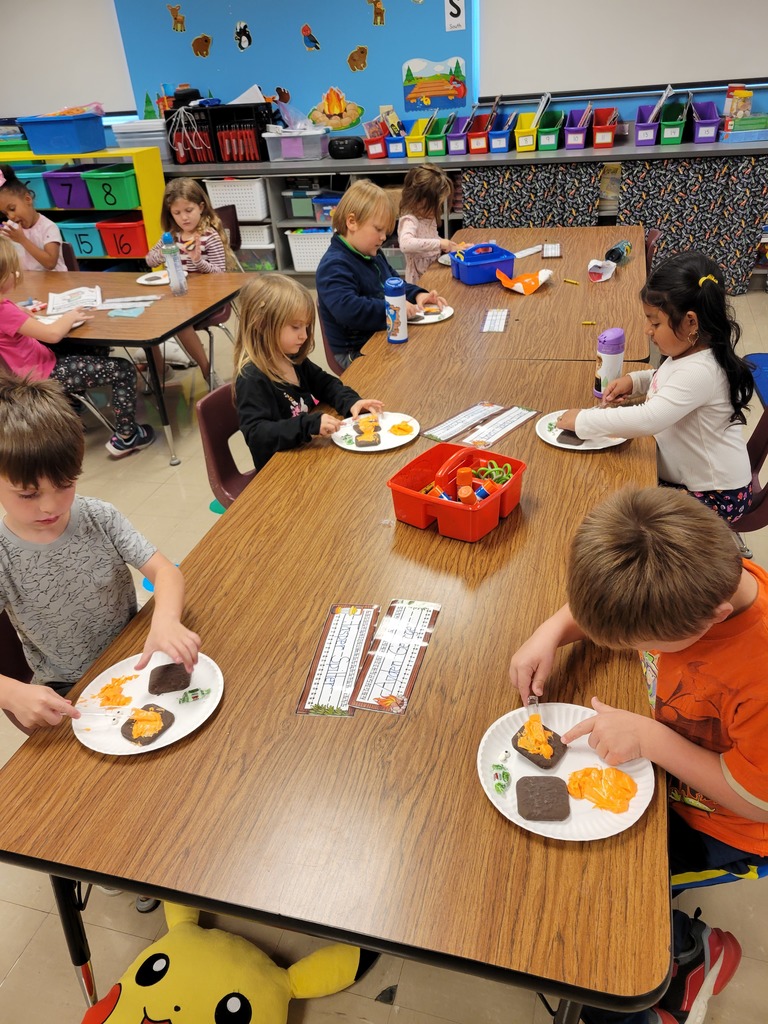 National School Bus Safety Week October 17-21, 2022 Did you know passing vehicles cause an estimated 2/3 of school bus loading and unloading fatalities? Brake for the bus!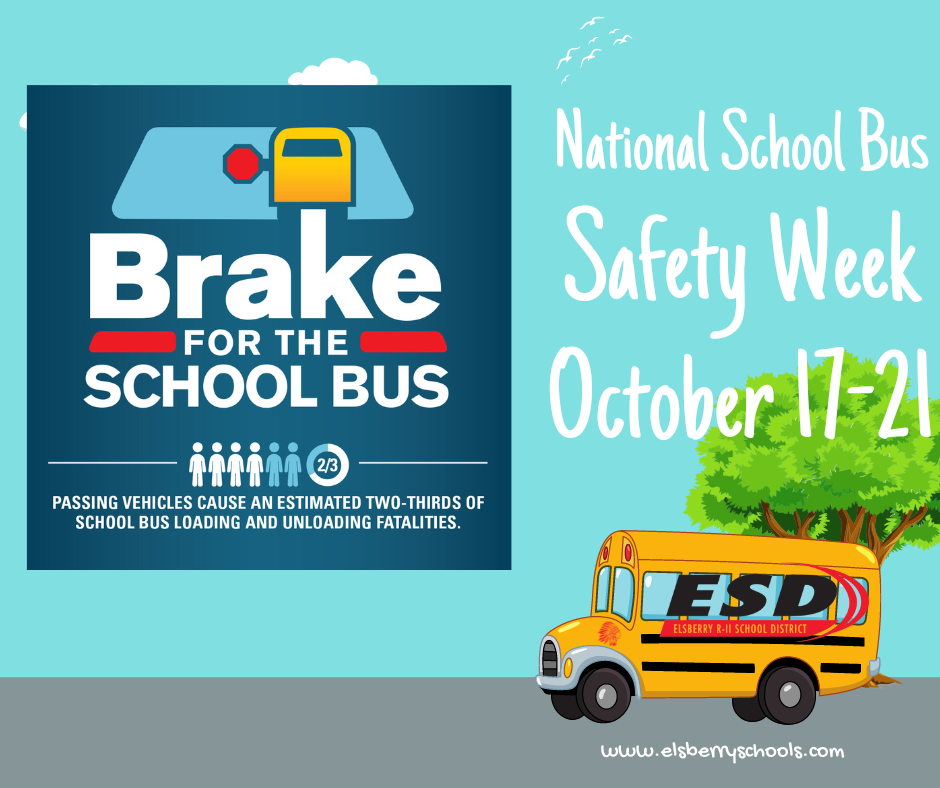 National School Bus Safety Week October 17-21, 2022 Keeping our most precious cargo safe!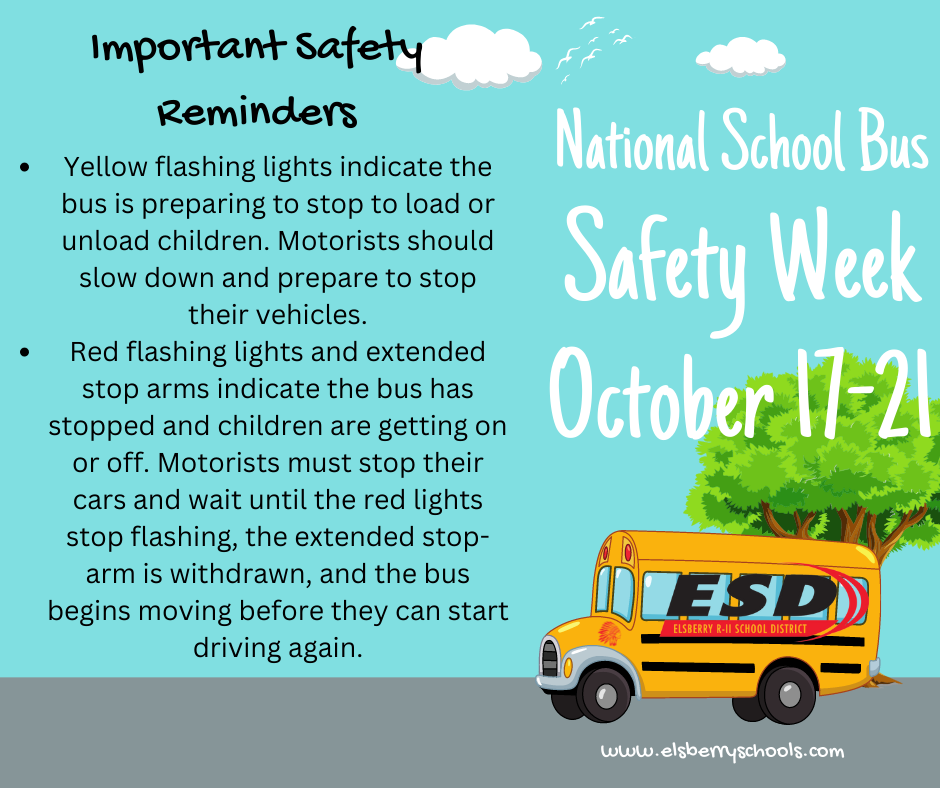 National School Bus Safety Week What can you do at home to help with school bus safety? Here are a few tips for before school.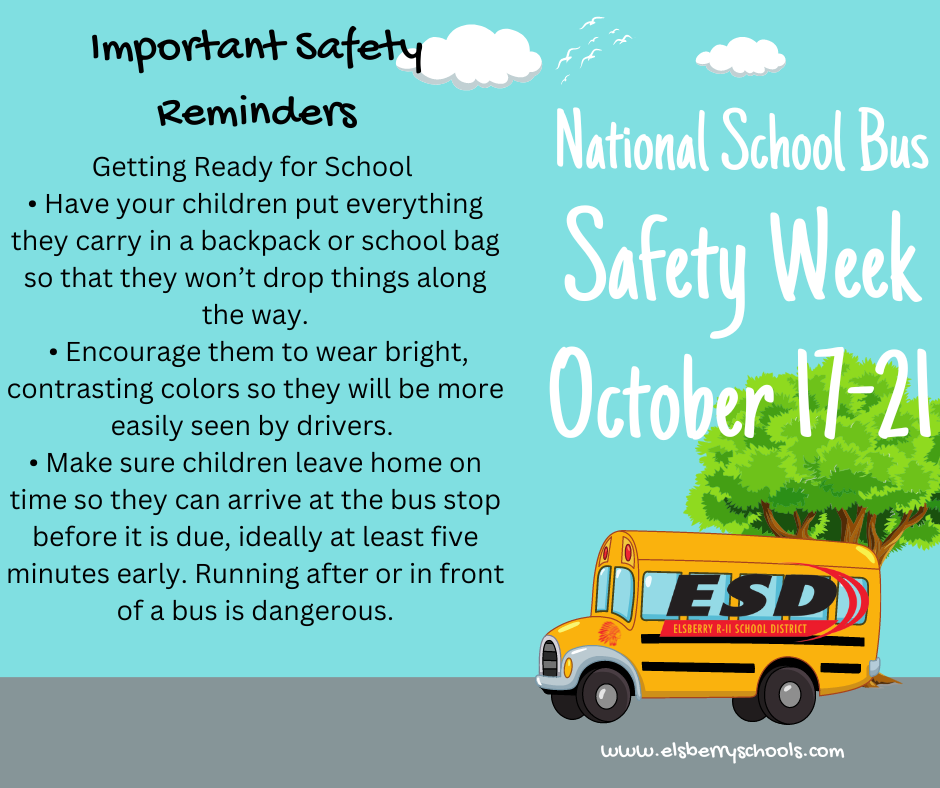 CCE Fall Literacy Night is this Thursday, October 20, from 5:30-7:00 p.m.

Blacklight bowling was a huge hit with our students in P.E. Thanks for making P.E. so exciting Coach Edwards.